About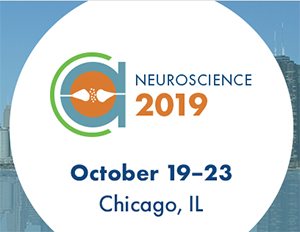 Neuroscience 2019, the 49th annual gathering of the Society for Neuroscience, will be held Oct. 19-23 in Chicago. This year's meeting is expected to attract more than 30,000 industry professionals from over 80 countries. Attendees will be able to attend carefully planned sessions including lectures, symposia and networking events designed for today's neuroscientist. More than 600 exhibitors will be on hand to showcase the latest technologies. For more information on Neuroscience 2019, please visit www.sfn.org.
The Houston Chapter of the Society for Neuroscience

An organization of neuroscientists whose mission is to promote the exchange of ideas and information between students, researchers and physicians in the Houston area. In addition, the Houston Chapter advocates the research and public understanding of the brain and nervous system and serves as an organization to disseminate the study of neuroscience to the general public.
NRC Sponsored Events

APRIL 13, 2019
UTHealth Neuroscience Research Center – 24th Annual Neuroscience Public Forum
The 2019 free Public Forum – Maintaining Brain Health across the Life Span
Moderator: Thomas D. Meyer, Ph.D. Panelists: Jennifer Sanner Beauchamp, Ph.D., RN; Summer Ott, Psy.D.; Joy Schmitz, Ph.D. and Paul Schulz, M.D.

24th Annual Neuroscience Public Forum will be held on Saturday, April 13, 2019 at the Cooley University Life Center. The forum is free to the public. The annual forum is part of international "Brain Awareness Week" and is one of the largest, public neuroscience outreach events held in Houston, allowing hundreds of members of the Houston community to interact with scientists and clinicians as well as view demonstrations and displays related to brain function and health.